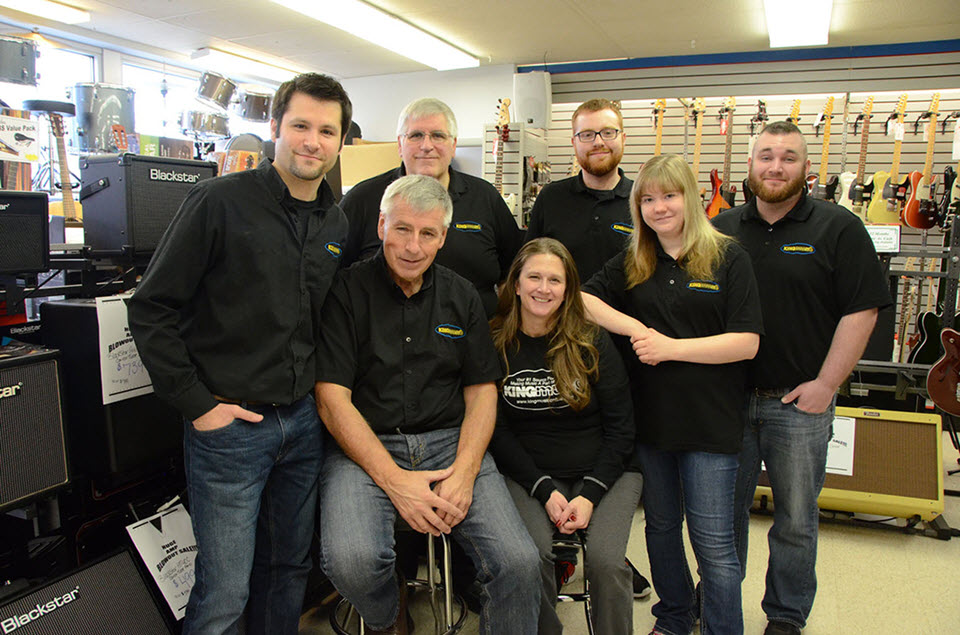 Founded on June 1st, 1981 by Millikin University college roommates, Randy King and John Larson, the business first opened as King-Larson Music Services. Originally located at 505 West Broadway in Bradley, Illinois, the first building was less than spacious. Not only were there several other music stores already established in the area, but it was also a tough economic time. "In 1981 we were in the middle of a recession and people told us the store would never make it," Randy noted. Despite the tough times, King-Larson Music Services was able to fulfilled a need in the area for a business that was involved in the community and put music education first. Later that year, when John Larson left the area to pursue other interests, Randy called on his brother David to join the business. The company was renamed King Music Services, Inc (dba KING MUSIC, INC) Randy and David maintain that the most important ingredients that have determined the success of KING MUSIC are music education, community involvement, and customer service. When we invest in the future of music, there will be a future in music. Music Makes You Smarter!
In 1984 they acquired the Piersol Music House of Kankakee Illinois from Lloyd & Ada Higgerson and eventually in 1986 they merged the two firms under one roof at the current location, 670 West Broadway in Bradley Illinois. We expanded our music education space to include 10 private studios for Piano, Drums, Band Instruments, Guitar, Bass Guitar, and Voice lessons.
A crowning achievement came in 1994 Randy and David King were named the "Businesspersons of the Year" by the Bradley-Bourbonnais Chamber of Commerce. Achievements noted during the award ceremony included sponsoring the local contingency for the Worlds Largest Concert, the Monster Concert, featuring 200 area piano students, and for creating the Kankakee Valley Wind Ensemble. Most importantly is their involvement to the community.
Feeling growing pains that same year, KING MUSIC began a large remodeling project that included all new display walls, an expanded selling floor, redesigned office space, a redesigned waiting area for music lessons and a new front counter with three checkout terminals for faster service. This remodeling project concluded with the purchase of a new computer network and point of sale software.
In 1997 KING MUSIC again reached out to the community by introducing the New Horizons Band. Originally started at the Eastman School of Music in 1991, the New Horizons band has been adding chapters throughout the country. The NHB is intended for anyone "post college aged musicians that use to play in band," regardless of their musical experience.