Stringed Instrument Repair Services
Meet Carl Johnson, guitar tech extraordinaire at the local music store, King Music in Bradley Illinois. Carl has been working on stringed instruments here at King Music since 2017, starting immediately after taking over for previous company founder and technician, Dave King. As an authorized service center for Fender Musical Instruments, Carl is a certified Fender Service Center Technician and brings that knowledge and expertise to King Music.
No matter what type of stringed instrument - be it guitar, bass, or ukulele - Carl has you covered. He works on entry level instruments all the way up to professional vintage gear and does it quickly without sacrificing the quality of his repair work. He offers services like re-strings, guitar and bass setups, electronic work and wiring, fretwork, pickup swaps, and custom mods to help you achieve your musical needs.
Passion for music runs deep in Carl - he puts his passion into practice as a religious man by playing guitar with his church. And it doesn't just stop with guitar - Carl offers his expertise on other stringed instruments as well.
At King Music, Carl Johnson is the go-to guy for your guitar tech needs. Have some repairs that need to be seen to? Give Carl a call. He'll have you rocking out in no time.
Have a Repair Question?
Click Our Blue Webchat Button
In Bottom Right Corner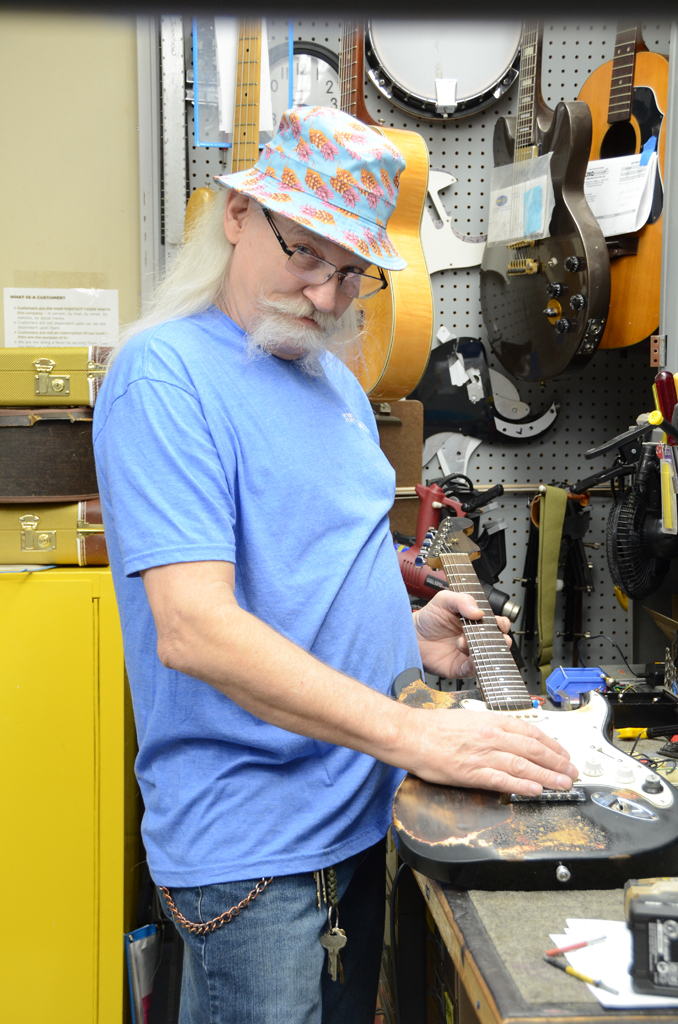 Words from Carl:
My name is CARL JOHNSON and I have been around the King Music family for a pretty long time. I'd give Dave a hand when a customer would ask for a particularly involved wiring scheme, like a Jimmy Page LP conversion or rewiring a Lucille. We often hung out in the repair room laughing and telling jokes. I came in full time when we lost Dave and now, I have the best job in the world for the worst reason, my friend and mentor is gone.
I picked up a bass when I was 14 and always played it like a guitar. Eventually I migrated over to the guitar and early on my grandfather got me interested in working on them. He would write to Fender, and they would send us wiring diagrams (this was well before internet) I watched him set his own guitars up and being mechanically inclined I began to adjust my guitars to get the best feel and play ability out of them. My first instrument was a Fender Mustang bass, and my first electric guitar was a Teisco body and neck with a pick guard I made with a DiMarzio pickup I installed. A real rat.
Almost 50 years later, everything I know about guitars I learned from trial and error on my own guitars and by scouring every article I could get my hands on, magazines early on and now with the internet, much of the information is at our fingertips. But you have to know what to do with it. You have to have care in execution, pride in and a love for your work. I also continue to expand my knowledge. I'm a silver certified guitar technician by Fender. I've been in communication with another manufacturer about certifying with them and I have taken some additional luthier classes on re-fretting this summer. I have a two-year degree in Industrial Electrical and I'm a Journeyman Carpenter. It's always been wires and wood, sounds like a guitar to me...
Along with guitar and other stringed instrument setups, I know many custom wiring and pickup switching schemes. I love hot-rodding guitars and I've got return customers who value my ideas and my integrity. I won't devalue your heirloom. But I can upgrade your instrument. Re-voicing your guitar with a pickup swap, phase switching, custom switching or simple coil taps are all available. I can do tuner or other hardware upgrades as well.
I'm also a self-styled artist in many types of media. Steampunk guitars are a favorite of mine and I've done quite a few. You want a burnt Strat? I can do that, but I'm also quite capable of subtlety. Often a pick guard swap is all an instrument needs to be personalized. I've de-glossed guitars with a simple rub down. I won't repaint or refinish your guitar, there's plenty of painters out there. But I can help you re-imagine your axe into a piece of artwork you can enjoy playing for years to come.
About Our Repair Services
FREE Repair Estimates
King Music provides FREE Repair Estimates for Band, Orchestra, and Fretted Instruments.
Repairs: King Music Inc. is your one stop repair shop. We can provide services from a quick fix to complete restorations. Our top notch repair team has the knowledge and resources to walk you through all the options of your instrument repair experience. Feel free to stop in any time or fill out the form below so we can help get your instrument back in great shape today!
Electronic Cleaning: King Music Inc. offers electronic cleaning and maintenance on electric guitars, bass guitars, acoustic guitars, and much more. Our experienced technicians offer top-notch cleaning services that will enhance the performance and longevity of your instrument.
Warranty: King Music Inc. is an authorized service center for Fender Musical Instrument Corporation. Our guitar technician is able to service and do warranty work on Fender, Squier, Gretsch, Jackson, Charvel, and EVH stringed instruments.
---
<